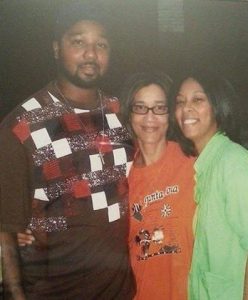 Losing a child is a parent's worst nightmare. But for some, the pain is more unbearable when unanswered questions surround the death.
"I want to know what happened to my son," says Royce Eckley, who's struggled for more than a year trying to find answers in connection with the death of her son.
January 4, 2013, Eckley's son, Marcus Merritt, was found dead in his home in Leonville, Louisiana in St. Landry Parish. His death was ruled a suicide from a self-inflicted gunshot wound. But Eckley does not believe it. For one, she says no autopsy was done.
"The coroner himself told me he never saw him. He went straight from the house to the funeral home," said Eckley.
She also says no gunshot residue tests were completed. Eckley feels the case was inadequately investigated… And adds various witnesses gave conflicting details.
"One says he was laying next to the bed but someone else was told that he was found in the kitchen," said Eckley.
She finds it suspicious that the day after Marcus died, the mattress in his room was burned.
"The mattress was burned the next day and then within a few days the house was totally cleaned out," said Eckley.
Eckley says Marcus had three children and was planning for the future. She says this text message with his best friend on the day of his death discusses plans to pursue a job prospect in Houston.
"He had plans to move back to Texas. He had a job that was starting either January 27th or January 28th," said Eckley.
About the mattress and cleanup, Police Chief Joseph Noel says he authorized cleanup of the house. Both he and St. Landry Coroner Russell Pavich stand by their original findings that it was a self-inflicted gunshot.
After receiving the police report, St. Landry Parish District Attorney Earl Taylor says, in a letter to Eckley, "The evidence clearly established that your son died from a self-inflicted small-caliber gunshot wound in the mouth without exit wounds."
Calcasieu Parish Coroner Terry Welke doesn't speak specifically about the Merritt case but says in such a case, "We would have brought the body in for an examination, done the X-ray and retrieved the bullet."
Welke says in Calcasieu, all bodies with gunshot wounds are brought to the coroner's office for examination.
"If the bullet is inside of the body, we take X-rays no matter what, where the gunshot wound of entrance is located to see if there is a bullet that is still in there or not. If the bullet is in there, I will do an autopsy to retrieve the bullet so it can be examined and compared to the weapon is there is one found at the scene," said Welke.
He says they also draw blood for possible toxicology tests, though they don't necessarily run analyses if the cause of death is apparent. But he says sometimes, in a suicide, family members wish to pay the cost of testing.
Welke says when a gunshot enters the mouth, the ruling is almost always a suicide because no one is going to allow someone to put the barrel of a gun in their mouth. But he says in Calcasieu, the bullet would be removed from the body and compared to the gun at the scene.
"We try to test fire the weapon and then they look for some markings on the bullet from the test firing and then compare those with the bullet retrieved from the body and see if it's actually the same weapon that was supposedly found at the scene," said Welke.
He says in a suicide where the bullet is recovered outside the body, an autopsy would likely not be done.
Still, Welke says it can be hard to determine entrance and exit wounds at the scene. Welke says bringing the body to the exam room where they have adequate lighting and are able to clean the body helps in differentiating suicide versus accident versus homicide.
Still, Welke says he does not judge coroners in smaller jurisdictions with fewer resources.
"I cannot fault any particular parishes because they have to do what they feel is right and if they can get the cause of death and the manner of death on the death certificate, then so be it," said Welke.
Eckley remains determined and wants more investigation.
"Exhume his body and have an autopsy done on him which should have been done at the beginning. I will do whatever it is it takes to find out what happened to him…because I love him and nobody else loves him like that," she said.
She says she'll pursue any and all means available until she is satisfied she knows what happened to her son.
Below see more of Dr. Welke's comments:
Welke says very important reasons they bring all bodies, with gunshot wound(s) to they office are due to the challenges of determining entrance and exit wounds.
"It can be extremely difficult to discern entrance and exit wounds at the scene, hospital, etc.; therefore, adequate lighting and cleansing of the body, at office assists in the task of differentiating suicide versus accident versus homicide," said Welke.
He admits not all jurisdictions can afford such evaluations.
" I am biased and feel that gunshot victims should be evaluated by someone with an 'experienced eye', after cleansing the body and then visualized in a well-lit area. Unfortunately, not all jurisdictions are able to afford such evaluations; thus, they have to rely on circumstances at the scene and witness statements (truthful or otherwise)," said Welke.
He says he has made recommendations to coroners and organizations aimed at improving the accuracy of death investigations.
"I have made those recommendations to various coroners and organizations, in hopes of improving the determination of the manners of death (suicide, homicide, accident)–sometimes I have been successful/sometimes not," says Welke. He says though legislation might be beneficial, he feels progress is a frustratingly, slow process.
Copyright 2014 KPLC All rights reserved
MJA INVESTIGATIONS UPDATE: THE MARCUS MERRITT STORY – click here

01/31/08:  Video – Talking with Mark Harper of MJA Inc Investigations – click here!

01/24/18: Universal Collective Network – click here!

01/04/17: Latest Announcement: The Marcus Merritt Story – FB Live with Sevgi Fernandez – click here!

12/21/17: MJA NEWS SPOTS: PART : 3 THE DEATH OF MARCUS MERRITT SR. – click here!

9/24/15: For additional media, listen to a LIVE interview as RED JOURNAL RADIO PRESENTS: THE MARCUS MERRITT STORY – click here!