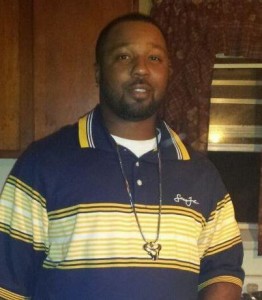 Marcus Anthony Merritt, Sr.
My son, Marcus Anthony Merritt, 37, died in Leonville, Louisiana on January 4, 2013.  Authorities have told me that he committed suicide at his home. However, there are unresolved inconsistencies in the circumstances surrounding his death that have left me with lingering questions. The Leonville Police Department and the St. Landry Parish Coroner's Office have not been very forthcoming with information. I am asking for your assistance in this matter.
Marcus and his family resided in a house at 3952 Hwy 31 in Leonville. Marcus was married to Astrea Babineaux Merritt for over eight years at the time of his death. Marcus had a child from a previous relationship, and so did Astrea. Marcus and Astrea had two children together, ages nine and seven. The two younger children and Astrea's 15-year-old son, Bryland Babineaux, resided in the home with Marcus and Astrea.
On Friday, January 4, 2013, I received a call from Astrea just before 6:20 pm. She was calling me from her job on her cell phone. She told me that she thought Marcus had just done something to himself. I could tell from her voice that something was wrong and asked her why she would think that. She told me that she and Marcus had been texting each other. All of a sudden, Marcus quit texting her back. Astrea said she called him, and he did not answer the phone. Astrea told me that she was leaving work at that moment to go to the house. She had also called her parents to ask them to go to the house, knock on the door, and see if he would answer.
I put Astrea on hold and attempted to call Marcus myself. He did not answer. I remained on the phone with Astrea as she drove home. She told me that Marcus told her he knew that he had hurt her. Curiously, I never heard any extraneous noises, driving noises, during Astrea's trip. It took her about 15 minutes to get home. Once Astrea was at the house, I did not hear her talking to her parents. I still did not hear any extraneous noises: her car door, keys jingling, house doors opening. I heard nothing until Astrea said, "They're still not coming out," referring to her parents who had gone inside the house to check on Marcus.
Astrea's parents evidently discovered Marcus' body in his bedroom, dead on the floor next to his bed. I'm supposing they exited the house. I heard Astrea say, "He did!" and she began to cry. Astrea's mother then came on the phone and said, "Royce, I'm sorry."
I drove to Leonville the next day, Saturday, January 5th. I went to Astrea's parents' house. I spoke with Astrea. However, her story changed. She told me that she and Marcus had been talking on the phone, not texting, and that she heard a loud noise after which Marcus said, "Uh." She got no response from him after that.
Astrea's father told me that Marcus had been reading a Bible before he took his life. I asked Astrea's mother if the scene had been horrible. She said no, that they found Marcus lying on the floor next to the bed. His phone was on the bed. I don't remember where she said the gun was. I still don't know what kind of gun was found. Astrea's mother told me she checked Marcus for a pulse and, finding none, closed his eyes.
Bryland, Astrea's son, told me that he and his stepfather played a game together that afternoon. His mother was going to take him to his grandparents' house for a tutoring session. Bryland said that, when he left the house, his father was in good spirits.
I think it was Saturday night that Astrea told me that they did a good job cleaning the house. I'm pretty sure that she was referring to her father and some other people. She told me that they burned the mattress. I asked her why, and she said it had blood on it.
On Monday, January 6th, Astrea, her mother, my cousin, and I went to Ford and Joseph Funeral Home in Opelousas to take a set of clothes for Marcus. The funeral director, Mr. Ford, is also the pastor who presided over Marcus' funeral the following Saturday. Pastor Ford led us to a preparation room where Marcus' body was on a steel gurney. His body was covered by a sheet from the neck down. It seemed to me that his hair was a little longer than he normally wore it. However, I did not see any wounds to his head.
About a week after the funeral, I learned from Marcus' best friend in Houston, Steve Sanchez, that Marcus had been planning to come to Houston to take a construction job.
I got in touch with the chief of the Leonville Police Department, Joseph Noel. I asked him if I could obtain a copy of the police report. He told me I would have to get it from Astrea.
Weeks later, I spoke by phone with Pastor Ford. He told me that his body car attendants collected Marcus' body from his house, the scene of his death. I told Pastor Ford that I did not even know where my son had been shot. He told me that he saw no evidence of a gunshot wound. I was astounded to the point that I got a friend of mine on the phone in a three-way conversation with Pastor Ford. My friend asked the pastor if any reconstruction had to be done on Marcus to prep him for the funeral, and he said no.
Later still, I spoke with a funeral home employee named Daphne. She had a copy of the death certificate. She said it listed the time of death as 6:51pm. This seemed odd in light of the timing of Astrea's phone call to me.
The St. Landry Parish Coroner, Dr. Russell Pavich, returned my calls on February 4th. He told me that Marcus died of a self-inflicted gunshot wound to the head. I asked him about the autopsy, and he said no autopsy had been performed. He said his investigator had gone to the scene and reported to him that Marcus shot himself in the head. I told Dr. Pavich that I had seen my son's body at the funeral home before it was prepped for the funeral and that I did not see any wounds. The doctor told me that, if the muzzle of the gun is pressed to the head, a wound may not be all that evident.
Dr. Pavich said the history was taken from the spouse and the spouse's father, the spouse being a nurse who left work to check on her husband because of what she heard over the phone. Astrea is not a nurse. To my knowledge, she is a mental health tech. And her original story to me was that Marcus had been texting her, not talking to her on the phone.
Dr. Pavich told me that he did not see Marcus' body. I asked him for his investigator's name. He did not give it to me but said either he or his investigator would get back with me. To date, neither of them has called me.
About a month after I spoke with Dr. Pavich, I remembered that someone must have cut Marcus' hair before the funeral. I found out that a barber in Louisiana named Jody is the barber who has been cutting Marcus' hair for ten years. He went to the funeral home to give Marcus a haircut. I called him. Jody told me he did not see any evidence of a gunshot wound, either. Jody said he went to someone at the funeral home to ask them what happened to Marcus, and he was told that Marcus had shot himself in the head. Jody told me, "I don't know what's going on." Jody's phone number is 337-678-1800.
I know that Marcus was arrested by the Leonville police twice last year. They arrested him in August for simple battery involving domestic violence. In December, they arrested him for unauthorized entry of an inhabited dwelling, simple criminal damage to property, aggravated battery, and sexual battery.
It is my understanding that the victim in the December incident is Astrea's cousin, Rochelle. Astrea told me that Marcus had an affair with Rochelle. Marcus and Astrea rented the house on Highway 31.  A Mr. Paige owns the house. His niece, Janet, told me that Astrea was not living in the house with Marcus at the time of his death.
Obviously, I have concerns. I called the Louisiana Attorney General's Office for assistance. They referred me to the state police. The state police told me that they do not go behind other department's investigations. Frankly, I feel stonewalled.
If you have questions about the circumstances surrounding my son's death, please contact me.  If you have resources to resolve these issues that I don't have, I would appreciate a phone call: (832) 384-8502 or contact me here.
Sincerely,
Royce L. McGrady
email: justiceformarcus@gmail.com